Homes for Sale in Monterey Heights, San Francisco, CA
The sophisticated and serene neighborhood of Monterey Heights is a breath of fresh air in the hurly-burly of the big and busy city of San Francisco.
Many people dream of moving to San Francisco. However, most of them feel half and a half about it, the other half wanting to stay in their small towns and continues to bask in its mellow ambiance. Monterey Heights is the answer to that fusion you've been longing for. You do not need to decide which is more important to you anymore because Monterey Heights can give you the best of both spectrums. The elegant neighborhood of Monterey Heights features the convenience of urban living, with several shops, cafes, restaurants, and groceries nearby. All while serving you the tranquility of a tiny village with its proximity to nature. Imagine working in the fast-paced Financial District of San Francisco in the morning and going home to your humble abode with a warm and cozy atmosphere. If this is the blend that you're looking for, we encourage you to get in touch with our team so we can make this come to life.
ACCESSIBLE ARTERIAL ROADS: The various arterial roads are within earshot of Monterey Heights, which will make it easier for you to roam around the area and delight in the city's cornucopia of things to do. This upscale neighborhood has a direct passage towards I-280 that is practical if you wish to have a quick getaway from the daily dose of urban tension. Monterey Boulevard, which snakes around the southern part of Monterey Heights, is also a great way to reach the neighborhoods of Saint Francis Wood, Balboa Terrace, and Mt David Manor to its west, while Westwood Highlands, Westwood Park, and Sunnyside to its east. You can effortlessly visit Lake Merced on the west or McLaren Park on the east, with many streets and boulevards connecting you to places you need to be.
ETHEREAL VISTA: A news article states that the inclusion of natural scenery may help boost an individual's morale, feeling, and productivity all at the same time. That is only one of the many studies done by various researchers on the strong link of a human being to its environment. With these researches in mind, it's truly rewarding to you to live in Monterey Heights with its ethereal vistas. The Monterey Heights neighborhood also features an unobstructed skyline that allows you to enjoy the clear, bright sun during the day and lets you bask in awe as you stargaze at night.
CROSS-CULTURE GASTRONOMY: Stationed in the epicenter of cultural trade, Monterey Heights is not a stranger to a multicultural society. The compelling process of cultural synthesis is the harbinger of innovative and fresh ideas, and Monterey Height's gastronomic scene is no exception. The neighborhood is near a wide variety of delicious restaurants that often feature cross-culture fusion foods, such as our own Mission District's Mission-style burrito and Ichiro Mashita's globally recognized California Roll. Can you imagine walking into a Japanese restaurant across the state without seeing that familiar and comforting Roll? Yeah, horrendous. So let's keep it rolling and pass on to our successors the significance of cultural diversification. And maybe, just maybe, one of your offspring will be soldering the next big thing.
San Francisco Real Estate Information
Median Price of Sold Homes
Home Ownership Percentage
Homes in Monterey Heights
5 Real Estate Facts About Monterey Heights
Monterey Heights Homes are generally equipped with 2-5 bedrooms, 1-4 bathrooms, and the iconic big-bright-bay-windows,
The streets of Monterey Heights display different assortments of home styles like English Tudor, Modern, Contemporary, and Vintage.
Monterey Heights neighborhood continues to be one of the most in-demand properties in the area despite its competitive price range of $2,400,000 to $3,800,000.
Many individuals decided to raise a family in Monterey Heights because, typically, the lot area is between 0.07 acres to 0.20 acres. Some residents converted the free space into their little one's play area, while some decided it's perfect for flora and fauna.
The actual living areas vary, but normally Monterey Heights dwellings average 1,100sq ft to 4,800sq ft.
Latest Homes for Sale in Monterey Heights, San Francisco, CA
67
Open House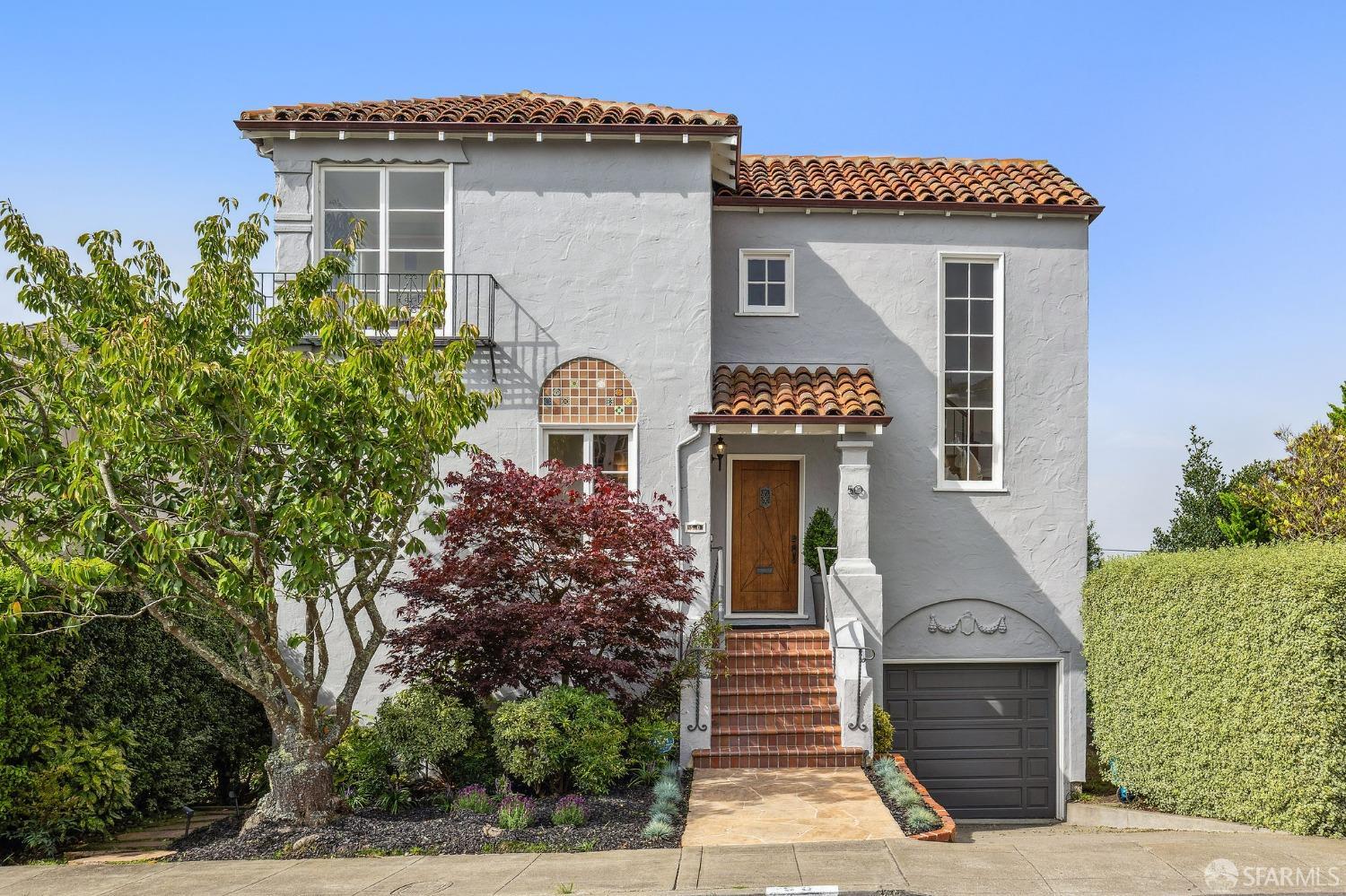 Beds
4
Baths
4
SqFt
3,673
MLS#
423907148
63
Beds
4
Baths
3
SqFt
2,954
MLS#
423746203
Monterey Heights sits on the western wing of Mount Davidson and is located in the southern central part of San Francisco. Santa Paula Avenue bounds the neighborhood on the north, Yerba Buena Avenue on the east, Monterey Boulevard on the south, and San Jacinto Way on the west. It is in the epicenter of 6 quiet neighborhoods: Sherwood Forest & Westwood Highlands on the east, Westwood Park & Mt Davidson Manor on the south, and Balboa Terrace & Saint Francis Wood on the west. A lot of known landmarks around the city are close by. For instance, the Golden Gate Bridge is approximately 18 minutes away from Monterey Heights, northbound, via 19th Avenue. At the same time, the Golden Gate Park is a few blocks north, about 10 minutes using the same avenue. The District of Marina lies on the north, about 20 minutes away via 19th avenue. On the other hand, the District of Mission is less than a 15-minute drive through US-10 N. Daly City is only a 10-min drive via I-280 S. Sacramento, California, is less than a 2-hour drive through I-80 E.
Ready to take the next step?
I take pride in helping my clients find the best deal possible and make their home search experience as pleasant as possible. Please don't hesitate to get in touch with any questions you may have about San Francisco neighborhoods. I would be glad to represent you in your transaction, whether it's buying or selling a home in the city.
San Francisco Market Statistics
Things to do in Monterey Heights
Schools in Monterey Heights
People who like Monterey Heights also like